Topics on this page
---
Implant Restoration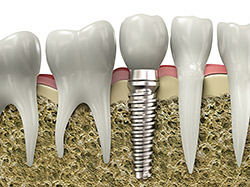 If you are missing teeth, it is crucial to replace them. Without all your teeth, chewing and eating can destabilize your bite and cause you discomfort. When teeth are missing, your mouth can shift and even cause your face to look older. Implants are a great way to replace your missing teeth, and if properly maintained, can last a lifetime!
An implant is a new tooth made of metal and porcelain that looks just like your natural tooth. It's composed of two main parts: one part is the titanium implant body that takes the place of the missing root, and the second part is the tooth-colored crown that is cemented on top of the implant. With implant treatment, you can smile confidently knowing no one will ever suspect you have a replacement tooth.
In addition to tooth replacement, implants may be used to anchor dentures, especially lower dentures that tend to shift when you talk or chew. For patients with removable partial dentures, implants can replace missing teeth so you have a more natural-looking smile.
---
Bridges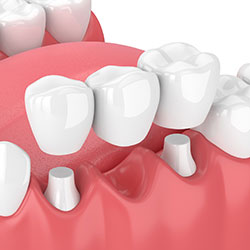 A fixed bridge is an alternative method to replace missing teeth, help maintain the shape of your face, and alleviate stress on your bite.
Today's technology allows your bridge to be made of all ceramic tooth colored materials and is bonded onto surrounding teeth for support.
The success of any bridge depends on its foundation — the other teeth, gums, or bone to which it is attached. Therefore, it's very important to keep your existing teeth, gums, and jaw healthy and strong.
---
Crowns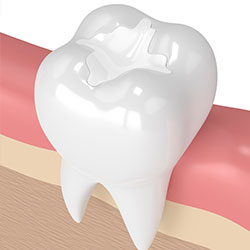 Crowns are a restorative procedure used to improve your tooth's shape or to strengthen a tooth. Crowns are most often used for teeth that are broken, worn, or have portions destroyed by tooth decay.
A crown is a "cap" cemented onto an existing tooth that usually covers the portion of your tooth above the gum line. In effect, the crown becomes your tooth's new outer surface. Crowns can be made of porcelain, metal, or both. With the latest advancements, crowns can now be made using highly esthetic, all ceramic materials. They mimic the translucency of natural teeth and are very strong.
Crowns or onlays (partial crowns) are needed when there is insufficient tooth strength remaining to hold a filling. Unlike fillings, which apply the restorative material directly into your mouth, a crown is fabricated away from your mouth. Your crown is created in a lab from your unique digital scan (no impression), which allows a dental laboratory technician to examine all aspects of your bite and jaw movements. Your crown is then sculpted just for you so that your bite and jaw movements function normally once the crown is placed.
---
Fillings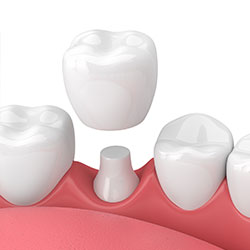 Traditional dental restoratives, or fillings, are most often made of silver amalgam. The strength and durability of this traditional dental material makes it useful for situations where restored teeth must withstand extreme forces that result from chewing, often in the back of the mouth.
Newer dental fillings include ceramic and plastic compounds that mimic the appearance of natural teeth. These compounds, often called composite resins, are usually used on the front teeth where a natural appearance is important, but they can also be used on the back teeth depending on the location and extent of the tooth decay.
There are two different kinds of fillings: direct and indirect. Direct fillings are fillings placed into a prepared cavity in a single visit. They include silver amalgam, glass ionomers, resin ionomers, and composite (resin) fillings. Indirect fillings generally require two or more visits. They include inlays, onlays, and veneers. They are used when a tooth has too much damage to support a filling but not enough to necessitate a crown.
---
Root Canals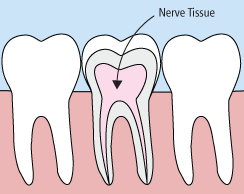 Root canal treatment (also called endodontic treatment) enables your dentist to save teeth that may be fractured or become infected. When a tooth is cracked or has a deep cavity, bacteria can enter the pulp tissue and germs can cause an infection inside the tooth. If left untreated, an abscess may form. If the infected tissue is not removed, pain and swelling can result. This can not only injure your jawbones, but it is also detrimental to your overall health.
Endodontic treatment can usually be done in one visit. During treatment, your general dentist or endodontist (a dentist who specializes in problems with the nerves of the teeth) removes the affected tissue. Next, the interior of the tooth will be cleaned and sealed. Finally, the tooth is filled with a dental composite. If your tooth has extensive decay, your doctor may suggest placing a crown to strengthen and protect the tooth from breaking. As long as you continue to care for your teeth and gums with regular brushing, flossing, and checkups, your restored tooth can last a lifetime.