Our smile is one of our greatest attributes. It sets the tone in business and social settings. A smile can convey confidence, warmth, and happiness and can serve as the basis upon which friendship and business relationships are formed. Consistently, the "number one" attribute that people notice, when meeting for the first time, is your smile.
Don't settle for than less than you deserve — a world-class smile.
For some, that may be Hollywood-style perfection. For others, it may be as simple as the confidence that comes with having brighter, whiter, straighter teeth. No matter how you define your "ideal smile" we can help you attain it.
Bonding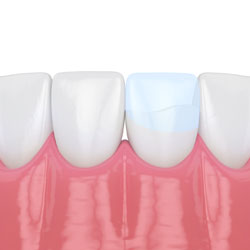 Bonding is a conservative way to repair slightly chipped, discolored, or crooked teeth. During dental bonding, a white filling is placed onto your tooth to improve its appearance. The filling "bonds" with your tooth, and because it comes in a variety of tooth-colored shades, it closely matches the appearance of your natural teeth.
Tooth bonding can also be used for tooth fillings instead of silver amalgam. Many patients prefer bonded fillings because the white color is much less noticeable than silver. Bonded fillings can be used on front or back teeth, depending on the location and extent of tooth decay.
Bonding is less expensive than other cosmetic treatments and can usually be completed in one visit to our office. However, bonding can stain and is easier to break than other cosmetic treatments, such as porcelain veneers. If it does break or chip, tell your doctor. The bonding can generally be easily patched or repaired in one visit.
---
Teeth Whitening
There are many products and techniques available for patients who want to achieve a brighter smile, and with so many options available, it can be difficult to choose the method that is right for you. The best way to begin any teeth-whitening regimen is to schedule an appointment and talk to your doctor about the differences between in-office professional whitening and at-home whitening.
In-Office Teeth Whitening
The first professional option is commonly referred to as in-office whitening. This procedure is performed in a dental office. During an appointment, your dental professional will apply a whitening gel to the surface of your teeth. The entire office visit generally takes about 90 minutes and you will be able to see results immediately.
At-Home Teeth Whitening
Tray bleaching is a type of professional whitening that uses custom-made trays and whitening gel only available through your dentist. The whitening gel is placed in custom-fitted trays that fit perfectly over your teeth. As the peroxide in the gel breaks down, hydroxyradicals help whiten stained teeth. Unlike strips, this process whitens all your natural teeth and may contain ingredients intended to provide maximum comfort. At-home professional tray whitening generally takes ten to 14 days, although you may notice results in as little as three to five days.
There are many over-the-counter teeth whitening options, and one type of readily accessible whitening products is commonly referred to as a "paint-on" teeth whitener. Paint-on whiteners can be purchased over-the-counter and generally are less expensive and less effective than whitening strips or professional options. Paint-on teeth whiteners consist of a gel that is applied to the tooth using a small brush. Paint-on whitening gel hardens into a film that coats the teeth, and dissolves in the mouth. As with any teeth-whitening regimen, it is wise to consult with a dental professional before use.
Teeth-whitening strips are thin, flexible plastic (polyethylene) strips with a thin film of hydrogen peroxide on one side. Whitening strip kits come with two types of strips: strips for the upper teeth and strips for the lower teeth. The whitening agent is applied by placing the strips across your teeth and gently pressing the strips to ensure contact with all your teeth. Teeth-whitening strips are typically worn for 30 minutes a day, twice a day. The duration of treatment will vary.
Whitening Toothpaste and Mouthwash
The least expensive options are whitening toothpastes and mouthwashes. Designed to have "whitening" capabilities, toothpastes and mouthwashes work to remove surface stains using mild abrasives. However, unlike the materials used in professional whitening procedures, these products do not lighten the actual color shade of the tooth. Whitening toothpastes affect surface stains and will mildly lighten your teeth.
If you would like to learn more about teeth whitening, please contact our practice to schedule an appointment.
---
Venus® Whitening
Show the world your most beautiful smile.
Nothing makes a bigger or faster impression than your smile. In fact, a beautiful, bright smile can be your biggest asset. When you look your best, you feel your best, and your smile shares that feeling with the world. For a brighter, more radiant smile, look no further than Venus White. From in-office whitening to convenient at-home systems, there's a high-performance Venus White option for you.
Venus White Max In-Office Whitening
Jump-start your whitening in an hour or less. Fast and effective, Venus White Max in-office whitening is your answer to an absolutely brilliant smile in a hurry. The difference will be dramatic, to you and everyone you meet.
Venus White Pro Take-Home Whitening for Custom Trays
Take your smile up to seven shades whiter. Venus White Pro is the high-performance whitening system specially formulated for simple at-home use. Ask your dentist about our custom-fit trays and determine the right Venus White Pro gel for you. Day or night, your smile will look brighter and more radiant.
Venus White Ultra Pre-Filled, Disposable Whitening Trays
Quick, convenient, and simple to use, Venus White Ultra whitening trays are pre-filled with mint-flavored gel. Made of an ultra thin material, our trays mold to each tooth for maximum comfort and effectiveness. Best of all, they're disposable; use a new tray each day for up to seven days and enjoy a brighter, more dazzling smile.
---
Veneers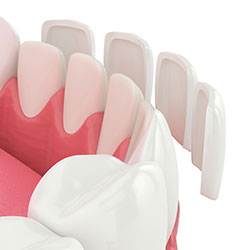 You no longer need to hide your smile because of gaps, chips, stains, or misshapen teeth. With veneers, you can easily correct your teeth's imperfections to help you have a more confident, beautiful smile. Veneers are natural in appearance, and they are a perfect option for patients wanting to make minor adjustments to the look and feel of their smile.
Veneers are thin, custom-made shells made from tooth-colored materials (such as porcelain), and they are designed to cover the front side of your teeth. To prepare for veneers, your doctor will create a unique model of your teeth. This model is sent to the dental technician to create your veneers. Before placing your new veneer, your doctor may need to conservatively prepare your tooth to achieve the desired aesthetic result.
When your veneers are placed, you'll be pleased to see that they look like your natural teeth. While veneers are stain-resistant, your doctor may recommend that you avoid coffee, tea, red wine, and tobacco to maintain the beauty of your new smile.
Invisalign® Invisible braces
The "clear" choice for straighter, healthier teeth! For patients everywhere Invisalign means no wires, no pain, and no restrictions throughout their entire treatment. Dr. Marotta is a certified Invisalign dental provider.
Experience the benefits of Invisalign:
Aligners are virtually invisible; friends and family members may never even notice you are wearing braces
You can remove your Invisalign aligners for:

Eating - that's right, you can eat anything you want with Invisalign
Brushing and flossing
Special occasions

There are no wires or brackets that will scratch your gums or need tightening
Invisalign treatment can improve your overall oral health
No wires to get food stuck in, no wires for gums to get scratched and bleed, no wires that say "look at me!!"
Learn more about Invisalign on their web site at www.invisalign.com.